Nina Caliente is one of the main characters of the Sims 2 series Pleasant View. She currently lives on her own as of her sister leaving with Nina's ex boyfriend Don Lothario. She is a resident of the fictional town Pleasant View. She is a fighter, she never gives up and is allways on the ball. She tries hard to get the best possible out of her failing sister Dina.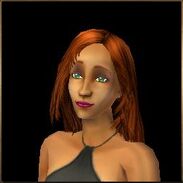 Nina lives on her own after her sister left for good. Dina will not be returning as a main character for season 2 but Nina will.
Biography
Edit
Not much at all is known about Nina's past. Her dad is desceased and she lived with her sister Dina. Dina only lives with her because Dina is uncapable to get a job. But Nina tries her hardest to push Dina to get some money, thats why in "Episode 3" Nina is so frustrated that Dina sold herself to Don rather than getting a real job for some money. Nina sleeps with Don after the town accuses him of being the cause of Bella Goth's dissaperance, Don admits to Nina that it was his fault and that she was abducted on his roof on a date with him. Dina was listening. In Episode 5, Nina runs away. It is revealed in "Episode 6" that Nina has run away in search of Bella Goth as it was rumored that she was wondering around Strangetown. Nina was'nt seen then until the 1st part of "Episode 9" where she returns with Bella Goth. Everyone is asking her about how it wen't and if she found Bella. Nina keeps on telling them that they would have to wait until Dina and Mortimer's wedding. The bride walking down the isle is revealed not to be Dina, but Mortimer's long lost wife Bella Goth.
Father (Desceased)
Dina Caliente (Sister)
Don Lothario (Brother In Law)
Relationships
Edit
Don Lothario (Ex Boyfriend)