Mary Sue Pleasant (Mary Sue Oldie)
is a main character of the Sims 2 Youtube series
Pleasant View
. She is a resident of the fictional town Pleasant View. She was married to Daniel Pleasant but she divorced him when he admited to cheating on her with Kaylynn Langerak. She has two daughters, Lilith and Angela, and a grand-daughter Angela Jr. She is quite a powerfull woman who is deffinately in charge of her household. She is strict when it comes to parenting (and adultery).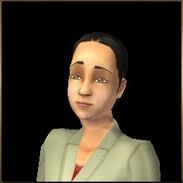 Mary Sue lives with her daughters, Angela and Lilith and her grand-daughter Angela Jr. She will be returning as a main character for season 2.
Biography
Edit
Her name was Mary Sue Oldie until she married Daniel Pleasant. They had two twin daughters, Angela and Lilith. She was unaware that Daniel had been cheating on her with the maid Kaylynn Langerak, until "Episode 8" when Daniel admitted to cheating on her. Mary Sue kicked him out of the house and they are now divorced. Her daughter Lilith had her baby after attempting suicide, the baby was called Angela Jr.
In "Episode 1 (Season 2)", she was on holiday when she developed a small relationship with the receptionist at the hotel whilst she was drunk. She was also unaware that Angela pushed Liltih of the Hotel roof and in the pool in a fight. In "Episode 2 (Season 2)" she confirmed at the book club meeting that Lilith had in fact died. Her funeral was held later on with Mary Sue giving a heartbreaking speech.
Angela Pleasant - Daughter
Lilith Pleasant - Daughter
Angela Pleasant Jr. - Grand-daughter
Relationships
Edit
Daniel Pleasant - Ex-husband
Receptionist - Ex-lover