Dustin Broke is one of the main characters of the Sims 2 series Pleasant View. He currently lives with his mother, Brandi. His brother, Beau and his step dad Peter. He is a resident of the fictional town Pleasant View. He is an ordinary teenage boy. Who is in love with his girlfriend Angela.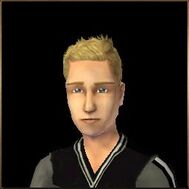 Dustin lives with his family, he is returning as a main character for season 2.
Biography
Edit
Dustin's past is slightly sketchy. His father died in a pool accident, presumably when he was in his teens because when his mother had a baby she was contemplating wether or not the baby was Skips' or Peter's. He is currently dating Angela Pleasant, they lost their virginity together in "Episode 2". In "Episode 4" he found his mother's phsycyatrist Peter White, at first he flipped out but he seemed to of calmed down after she announced she was pregnant. In "Episode 9 Part 2" he started to get jelous of Angela and Dirk's budding relationship, now him and Dirk decided that they should'nt let a girl get in the way of their friendship. Allthough he is still going out with Angela, quite happily.
Skip Broke - Dad (Desceased)
Brandi Broke - Mom
Beau Broke - Brother
Unborn baby - TBA
Peter White - Step Father
Relationships
Edit
Angela Pleasant - Girlfriend