Dina Caliente is one of the main characters of the Sims 2 series Pleasant View. She is currently engaged to Don Lothario and was engaged to Mortimer Goth, she was a resident of the fictional town of Pleasant View. She is quick to anger, cocky, arrogant and very flirty. She will almost do anything for money.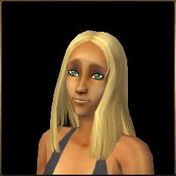 Dina lived with her sister Nina Caliente. Until she got engaged to Don and now they have moved away to an unknown place and she will not be returning as a main character for season 2.
Biography
Edit
Nothing at all is known about Dina's past except for her having a twin sister, Nina. And an unknamed father who died. In "Episode 1" Dina was caught having sex with Don Lothario (at the time, engaged to Cassandra Goth.) Nina later on mentioned in "Episode 3" that Dina did this for money. It was suggested that she married Mortimer Goth, the richest oldest man in Pleasant View, to get some, money. Dina found Nina in bed with Don. It was'nt until "Episode 5" Dina told Don what she saw, when she wen't to go and tell Nina. Nina had ran away to Strangetown in search of Mortimer's missing wife Bella Goth. Dina then got engaged to Mortimer in "Episode 6". They was due to wed in "Episode 9" but Nina returned with Bella who came back to marry Mortimer and Dina wen't and got married and ran away with Don Lothario.
Father (Desceased)
Nina Caliente (Sister)
Relationships
Edit
Mortimer (Ex Fiance)
Don Lothario (Husband)