Darren Dreamer is one of the main characters of the Sims 2 Youtube series Pleasant View. He is a resident of the fictional town Pleasant View and is currently in a relationship with Cassandra Goth. He seems to be very angry and deffencive after the loss of his wife Darleen.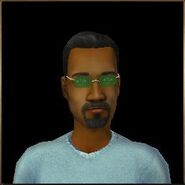 Darren lives with his son Dirk Dreamer, his wife Darleen died when Dirk was a young boy. He found love in recently single Cassandra Goth.
Biography
Edit
Not much at all is known about Darren's past other than his wife Darleen dying when his son Dirk was a young boy. In "Episode 1" he was mourning over the loss of his wife when Cassandra comforted him, he showed he affected for her quite openly when she was gone. In "Episode 5" Darren told his son Dirk that their family should not celebrate Christmas with Darleen dead, eventually Dirk turned him around and he agreed to celebrate Christmas. In "Episode 6" he confessed his affection to Cassandra. The feeling was mutual and now they are in a relationship.
Wife - Darleen Dreamer (Desceased)
Baby Boy - Grandson
Relationships
Edit
Girfriend - Cassandra Goth