Daniel Pleasant is a character of the Sims 2 Youtube series Pleasant View. He is a resident of the fictional town Pleasant View. He had a wife, Mary Sue. He also has two twin daughters, Angela and Lilith. Lilith had a baby so now Daniel has a grand daughter, Angela Junior. He had a relationship with the maid Kaylynn Langerak whilst he was married to his ex-wife Mary Sue. Although he has this large family, he is not exactly considerd a 'family man'.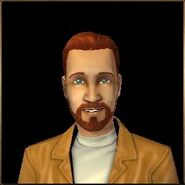 Daniel lives in an unknown house out of town after his divorce from Mary Sue. He will not be returning as a main character in season 2.
Biography
Edit
Daniel married Mary Sue Oldie. They had two twin daughters, Angela and Lilith. Then they got married and Mary Sue's name changed to Pleasant. They were the nice family in town, on the surface they seemed to have it all. It was'nt until "Episode 2" that Daniel was revealed to be having a relationship with another woman. He was doing a good job of covering it up, until "Episode 4" when Lilith was excluded from school. Their cover was blown when Lilith caught them in bed together. In "Episode 7" Daniel, despite being caught, was on his was for a date with Kaylynn. She was really mad that he was late "tending" to Mary Sue and told him to make a choice. He is about to break up with Mary Sue when he has a sudden flashback and realises that Mary Sue is the one. They were happily back together until "Episode 8" when Kaylynn came to the house to annonunce her new job in Belladonna Cove and that she was leaving. Mary Sue is at first thrilled and Kaylynn walks away. Mary Sue is slightly confused and Daniel finally comes clean about his relationship with Kaylynn. She abruptly divorces him.
In "Episode 3 (Season 2)" Angela arrived at his house giving him news of Lilith's death. Daniel is unsuprisingly quiet about the matter, until Angela admits it was she who killed her. After learning this, Daniel is furious.
Angela Pleasant - Daughter
Lilith Pleasant - Daughter
Angela Pleasant Junior - Grand-daughter
Relationships
Edit
Mary Sue Pleasant - Ex Wife
Kaylynn Langerak - Ex Girlfriend