Angela Pleasant is a main character of the Sims 2 Youtube series Pleasant View. She is a resident of the fictional town Pleasant View. She has a twin sister Lilith, a mom Mary Sue, a dad Daniel, a niece Angela Jr and a boyfriend Dustin Broke. She is a talented young dancer who is the popular smart girl at girl. She allways tries to pick up the pieces of her sister Lilith's problems and is allways happy to help. Allthough she describes it as somedays "a pain in the ass".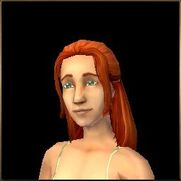 Angela lives with her mom Mary Sue, her twin sister Lilith and her niece Angela Jr. Her dad left after Mary Sue found about his affair with Kaylynn Langerak. She will be returning as a main character for season 2.
Biography
Edit
Angela has allways been the most popular of her and her twin Lilith, but she allways gets pushed around by Lilith. In "Episode 2" Angela lost her virginity with her boyfriend Dustin Broke, there sex turned out fine but in "Episode 4" Lilith announced that she was pregnant. Not much happened to Lilith after that, she was really trying to help with her sister's baby problems. But in "Episode 8" Angela found Lilith in the bathroom in a pool of blood. Lilith had attempted suicide by cutting herself. The baby had to of been forced out with 3 months of pregnancy, the baby was a girl and was named Angela Jr. Also in "Episode 8" Angela announced that she would be applying for Simdance University, a university for dancers. In "Episode 9 (Part 2)" Angela grew closer to Dirk when he comforted her at a bus station and they decided to go to Mortimer Goth's wedding together as friends. But there, Dirk wanted more than friendship from Angela. He attempted to kiss her. But Angela got really offended and slapped him, calling him a "son of a bitch."
Mary Sue Pleasant - Mother
Daniel Pleasant - Father
Lilith Pleasant - Sister
Angela Pleasant Jr. - Neice
Relationships
Edit
Dustin Broke - Boyfriend
Dirk Dreamer - Ex Crush